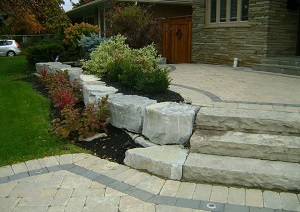 When it comes to hardscaping in Toronto, there are a few features around your home that can really make or break your home's curb appeal. Your driveways, patios, and steps carry a lot of responsibility. If these surfaces are well-maintained and well constructed, they can provide your Toronto home with a great deal of curb appeal, but the opposite can be true if someone cut corners on their construction or they haven't been propertly maintained over the years. Either way, when you are looking for a surefire way to increase the value and the visual appeal of your home, investing in the care needed to restore or replace these older surfaces with something fresh and new could be just what you need to revitalize your home. Here at Ritestone Interlock & Landscaping, we take our work seriously, and no matter what your new patio, driveway, or step ideas, we are ready and willing to deliver.
Give our Toronto interlocking stone experts a call today to learn more about the services we can offer you. We'd love to take care of your patio, driveway and stone step ideas to really enhance your landscaping!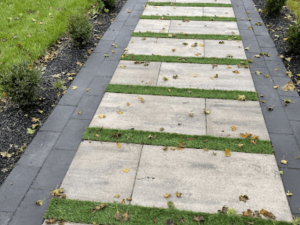 Your home's driveway forms a major part of the front portion of your home's landscaping, and when your old driveway is riddled with cracks, stains, or bulging areas, it can bring down the value of your home overall. Our team of professionals here at Ritestone Interlock & Landscaping can help you repair your old driveway, or tear it up and start fresh with a new, high quality interlocking stone, natural stone, or cement replacement.
Read More>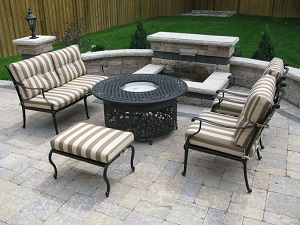 In addition to being a great enhancement for your backyard area, a new patio can provide you and your family with a wonderful space to gather together and enjoy the outdoors. When it is tastefully done from the right materials, a brand new patio area can have a serious impact on both the function and the value of your home, especially if you choose to go with in-demand materials like natural stone or flagstone. Even if you aren't looking at selling anytime soon, you will have a backyard piece that is sure to be a conversation starter. Read More>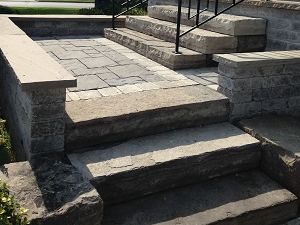 When they are properly designed and constructed, a set of high quality stone steps can actually wind up standing long than your home. Whether you are looking for a tasteful way to accent the entrances or exits from your home, or you have a multi-level backyard landscaping, stone steps can give you an excellent way to highlight the areas of your landscaping that you want highlighted and give you a high quality landscaping surface that will stand the test of time.
Read More>
If you need a Toronto landscaping and interlocking stone installation expert for your project, please call 416-881-5188 or complete our online request form.
If you are looking for a surefire way to add both charm and character to your home's landscaping, getting creative with some brand new stone
Read More »
Landscaping walls are one of the most versatile design elements you can bring to your property in the Greater Toronto Area. In addition to being
Read More »
The landscaping is usually one of the most important aspects of any home renovation project, and that's because your Toronto area home' landscaping is usually
Read More »