Professional Waterfall Installation Services In Toronto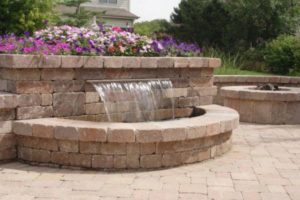 When it comes to home landscaping, waterfalls and other water features have become an exceedingly popular choice among homeowners in the Greater Toronto Area who are looking for something to take their landscape design to the next level. Here at Ritestone Interlock & Landscaping, our team of professional Toronto landscaping specialists have the skill, experience, and training needed to help you get exactly what you're looking for when it comes to designing and installing water features that will enhance your property's functional and aesthetic value. Ponds and waterfalls are a common presence in landscape designs for good reason. They serve as a wonderful addition to almost any home's landscaping design, and provide you with a timeless, classic feel for your property. In addition, the pleasant sounds of water flowing on your property can help to block out annoying background noise, giving you and your family a peaceful and tranquil place to gather together and forget about all of your cares.
If you are looking for a great way to spend more time relaxing in the outdoor area's of your Toronto property, whether you are looking to enjoy a good book in the outdoors, or looking for a peaceful place to meditate and reflect on the day, doing so next to your new modern waterfall landscaping feature will help you unwind to the subtle sounds of water softly flowing over stone. Our team of professional landscaping experts at Ritestone Interlock & Landscaping can help you design and install the perfect waterfall feature fitted to your needs and designed with the overall aesthetic of your outdoor living space in mind. With the help of our team of waterfall design and installation experts at here at Ritestone Interlock & Landscaping, you can create the ideal look for your home and garden that you've always dreamed of.
Give us a call today if you have any questions about our full line of professional waterfall design and installation services, or if you would like to schedule an appointment for consultation with one of our specialists. Our team of expert are always standing by and would be more than happy to assist you however we can.
Custom Waterfall Design Services
Your landscapes and gardens are your escape away from the business of the world at the end of the day, so why not look at the many benefits that could be yours when you have a custom designed waterfall feature installed to enhance your Toronto home's landscaping? With the soothing and relaxing sounds from a new luxurious waterfall feature, you can unwind after a stressful day in the comfort of your own backyard or garden in peace. We have a number of different waterfall types and designs, so no matter what your personal tastes might be, we can guarantee that you will find something to fit them. Our team of landscaping professionals are highly experienced in the field, and no matter what the complex needs of your property might be, we can come up with a design solution perfectly suited to the unique restrictions of your property.
Greater Toronto Area Waterfall Installation Experts
A brand new waterfall feature for your property can be one of the most relaxing and enhancing investments that you ever make for your Toronto home. There are a number of different sizes, styles, and materials you can choose from to create the water feature of your dreams while still suiting it perfectly to the limitations of your property. Our team of professional waterfall installation specialists at Ritestone Interlock & Landscaping are highly trained and knowledgeable in the field, so give us a call today to start transforming your Toronto home's landscaping.
If you are looking for a professional that specializes in the installation of water features and landscaping waterfalls in Toronto, please call Ritestone Interlock & Landscaping at 416-881-5188 or complete our online request form.