High Quality Gas & Wood Fire Pit Construction Services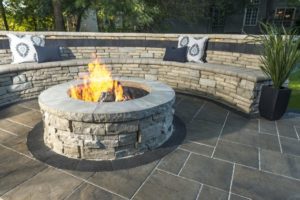 Here at Ritestone Interlock & Landscaping, our team of professional Toronto landscaping specialists are driven to help you get everything you need to get the utmost enjoyment and function out of your home's outdoor spaces. From interlocking stone pavers, to new patio installation, and even fully functioning outdoor kitchens, we really have something for every design and every budget to help you make the most of your home's landscape. Your home is a major investment, so doesn't it makes sense to have every aspect of it functioning like you want it to, including your outdoor living areas? If you are looking for a great way to get more enjoyment out of your home's outdoor patio or landscaping, why not consider all of the benefits that can come along with the installation of a brand new, high quality gas or wood fire pit for you and your family? Outdoor fire pits can give you and your family a great place to gather together and enjoy the outdoors, and our team of professional landscaping experts at Ritestone Interlock & Landscaping can help you get the most out of the project.
Imagine being able to relax with family and friends around a brand new, gorgeous fire pit just as the sun is setting and the cool evening finally sets in. With the help of our team of Toronto landscaping professionals here at Ritestone Interlock & Landscaping, that dream can become a reality in very short order. Our full line of custom fire pit services will help you bring beauty and ambiance to your home's outdoor spaces, and can provide you and your family with years of enjoyment. When you decide that it's time to install a brand new stone fire pit for your home's backyard or patio area, trust the professionals at Ritestone Interlock & Landscaping to get the job done. We have the skill, experience, and training necessary to make sure you get exactly what you're looking for from your fire pit landscaping project.
Give us a call today if you have any questions about our full line of professional gas and wood fire pit design and construction services, or if you would like to schedule an appointment for consultation with one of our specialists. Our team of experts are always standing by and would be more than happy to assist you any way we can.
Gas & Wood Fire Pit Design Services
Here at Ritestone Interlock & Landscaping, our team of landscaping and hardscaping professionals can help you design the new fire pit of your dreams by pulling from the extensive experience we have gained from performing this popular service for many other homeowners in the Toronto area. Our team of professionals will be able to offer you advice on any additional features that would help it tie in to your home's existing landscaping, and can even advise you on the benefits of choosing either wood or gas as a fuel source, and which would most likely be better suited to your particular needs and tastes. With our team of professionals on hand to assist you, you can rest assured that your new fire pit is going to be the stunning outdoor piece that will have all of your friends and family talking about for a long time to come.
Wood Burning Fire Pit Services
Can you imaging your next family or social gathering winding down to the sound of laughter along with the soft crackle and pop from a smoldering fire in your new wood burning fire pit? In addition to providing a warm ambiance that is hard to replicate with anything else, a wood burning fire pit can give you a great place to perform some of the favorite outdoor activities, like roasting marshmallows or making s'mores.
If you are looking for a professional to design and install a wood or gas fire pit in Toronto, please call Ritestone Interlock & Landscaping at 416-881-5188 or complete our online request form.