Durable Pressure Treated Fences in Toronto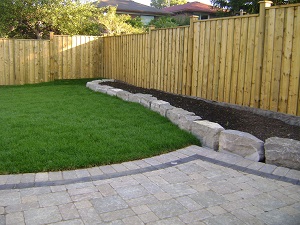 A wooden fence is a timeless and classic look that can be a wonderful addition to almost any home. When a wooden fence is installed properly, it provides you Toronto home with a great deal of security, privacy, and an aesthetic appeal that no other fence type can really come close to. Pressure treated fences in Toronto just happen to give you that extra sense of security and longevity, due to the durability of the wood.
When you are considering whether or not adding a wooden fence to your property is a project you are interested in undertaking, you want to make sure you have the name of a professional local Toronto landscaping company that can be on hand to make sure the process goes smoothly and you get the results that you want. For all of your wooden fence repair and construction needs, our team of professional Toronto landscaping contractor at Ritestone Interlock & Landscaping are here to help you make sure the job gets done right, and gets done right the first time.
Here at Ritestone Interlock & Landscaping, our team of wood fence repair and construction experts have the skill, experience, and training to make sure that you get exactly what you are looking for from your next landscaping project. Whether you are looking to increase the security of your property, increase the privacy of your backyard, or just increase the overall aesthetic appeal of your home, our team of professionals are here to help. From the initial design phase, to the final stages of construction, our team of experts will be on hand to make sure your finished results are exactly what you were expecting from your service. Our team of landscaping professionals pride themselves on their ability to deliver the highest quality landscaping work of any other contractor in the local area. We stand behind all of our work 100%, so you can always rest assured that if you don't think the job is done, neither do we.
Give us a call today if you have any questions about our full line of professional fence building services for the Toronto area, or if you would like to schedule an appointment for consultation with one of our specialists. Our team of experts are always standing by and would be more than happy to assist you however we can.
Installing Pressure Treated Wood Fences in Toronto
There are a number of great options out there when it comes to choosing the right type of wood for your home's new fence, and pressure treated wood is right there at the top of the list. Pressure treated wooden fences are generally a mix of pine species, and after the pine is cut down to size and dried out, it is treated with different solutions that help to repel termites and prevent decay. While this process does leave the wood a bit heavier, it also keeps it well protected for a much longer period of time. Pressure treated wood is great for resisting infestation from insects, and when it is sealed properly, your new pressure treated wooden fence will be able to stand up to the roughest weather this area can throw at it and still come out looking great.
Soft & Hardwood Fence Options
There are a number of different wood options available for you to choose from when make the decision to invest in a new wooden fence for your Toronto home, and our team of wooden fence installation professionals at Ritestone Interlock & Landscaping will be on hand to offer you the expert advice you need to find the perfect one for your home.
If you are looking for a landscaping professional that installs pressure treated wood fences in Toronto, please call Ritestone Interlock & Landscaping at 416-881-5188 or complete our online request form.