High Quality Outdoor BBQ Island Installations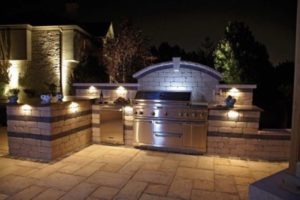 When you decide it's time to invest in a new landscaping project for your Toronto home's exterior, you want to be absolutely sure that you are getting the service of a team of professionals that have the experience, training, and skill to get the job done, and get it done right the first time. For all of your Toronto landscaping needs, our team of experienced professionals here at Ritestone Interlock & Landscaping will be there to make sure you get the service you need and the results you expect. We offer a number of high quality landscaping and hardscaping service to each and every one of our valued customers, including the design and installation of outdoor BBQ islands in Toronto and the surrounding areas. A professionally installed outdoor BBQ island can be a wonderful addition to your home's patio or outdoor kitchen area, and can provide you with just what you need to take your cookouts to the next level.
Here at Ritestone Interlock & Landscaping, we are a professional, fully licensed landscaping company that specializes in a number of excellent services all designed to help our clients make the most of their outdoor living spaces in Toronto. To help you in this effort, we offer a number of different high quality landscaping and hardscaping services that are guaranteed to help you bring the function and the aesthetic appeal you've always wanted for your home's landscaping. From interlocking stone pavers, to retaining walls, and even full outdoor kitchen designs and installations, our team of Toronto landscaping specialists can do it all, and will leave you with a finished project that is guaranteed to not only look great, but will also increase the value of your home as well. Give us a call today and let us show you the kind of quality design and construction work that has made us the premier landscaping contractor in the Toronto area.
Give us a call today if you have any questions about our full line of professional outdoor BBQ island design and installation services, or if you would like to schedule an appointment for consultation with one of our specialists. Our team of experts are always standing by and would be more than happy to assist you in any way we can.
Custom Outdoor BBQ Islands in Toronto
Without a doubt, one of our more popular services offered here at Ritestone Interlock & Landscaping is our outdoor BBQ island design and installation. A high quality BBQ island for your outdoor kitchen or patio area can provide you with a great deal of both style and function for your outdoor space, and can help you merge the fun of cooking for family and friends with the beauty of outdoor living. Outdoor BBQ islands take a great deal of the hassle out of cooking because they virtually eliminate the hassle of kitchen cleanup, giving you more time to enjoy eating with your family and friends. You can have an outdoor BBQ island specifically designed to fit with your home's landscape as well as your specific functional needs, so why wait any longer?
Outdoor BBQ Island Installation Services
BBQ islands are usually custom designed and built on site to help you create the truly customized project you need to take your home's function and design to the next level. We have a number of different options for you to choose from in terms of materials, textures, colors, and appliances, letting you have peace of mind in knowing that your new outdoor BBQ island will be perfectly suited to your particular taste and needs.
If you are looking for a professional that specializes in improving outdoor living spaces with BBQ islands in Toronto, please call Ritestone Interlock & Landscaping at 416-881-5188 or complete our online request form.