High Quality Concrete Repairs for Toronto Homes & Businesses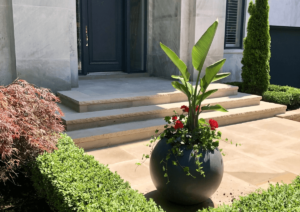 If you have concrete surfaces around your home that have suffered damage in recent years, or have just started to show their age as of late, it is important to remember that resurfacing isn't your only option to restore these surfaces back to their former glory. In many instances, a bit of repair work can have these old surfaces looking like new once again, without the hassle of having to tear everything up and replace it completely. Our team of professional hardscaping specialists at Ritestone Interlock & Landscaping are the local experts of choice when it comes to concrete repairs in Toronto for both homeowners and businesses. Broken and cracked concrete can be unsightly, and even dangerous depending on where it is located. You should never have to settle for less than the best when it comes to your home's aesthetic appeal or its safety, so give our team of local Toronto concrete repair professionals a call today.
Here at Ritestone Interlock & Landscaping, our concrete services team has the experience, skill, and training needed to make sure you get the absolute best in service each time you call on us. With our years of experience in the field, we know exactly what it takes to get your home's concrete surfaces back to their original pristine condition, and we will work tirelessly until we have accomplished that goal. If your Toronto home's concrete surfaces have suffered damage recently, or they just aren't looking as pristine as they once did, give our team of professional landscaping contractors a call today, and let us show you why we are one of the most trusted sources for concrete repairs throughout the Toronto area.
Give us a call today if you have any questions about our full line of professional concrete repair services, or if you would like to schedule an appointment for consultation with one of our concrete and interlocking stone specialists. Our team of experts are always standing by and would be more than happy to assist you in any way we can.
Concrete Foundation Repairs in Toronto
If you notice that your home has cracks in the basement walls or floor, it might be time to call in the concrete repair professionals at Ritestone Interlock & Landscaping. Foundation cracks can easily start to widen over time, resulting in wet basements or even leading to much more serious structural problems. Not only are these cracks an eyesore, but they can also result in the need for much more serious maintenance over time, and reduce the overall value of your home. Our team of Toronto concrete repair specialists can help you address these foundation issues and help you bring your home up to show quality in no time at all. There are a number of different methods our team of experts can utilize to repair these kinds of issues, and we guarantee you will be satisfied with the finished results of your service.
Concrete Step Repair Services
Having uneven concrete steps can not only be unsightly, but they can also pose a serious threat to the safety of you, your family, and your guests. With the help of our team of professional concrete repair specialists, we can help you take your old, damaged, or worn out steps, and bring them back to their original quality state in no time at all. Don't put you and your family's safety at risk, give our team of Toronto landscaping experts a call today.
If you are looking for a professional contractor that offers quality concrete repairs in Toronto, please call Ritestone Interlock & Landscaping at 416-881-5188 or complete our online request form.