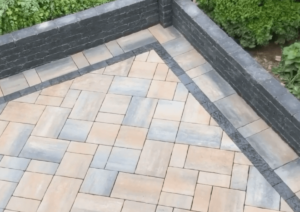 When it comes to creating a beautiful landscape design for your home, there are few things out there that can bring the same kind of beauty to the space that natural stones and flagstone in Toronto are able to. There are a large number of different ways that you can utilize natural stone and flagstone in your home's landscaping design, and if they are tastefully and professionally done, they can also add a great deal of value to your home while also just making your outdoor spaces that much more enjoyable for you and your family. From new flagstone patios, to natural stone driveways, and even rock paver sidewalks, there is almost no end to the options available to you, but whatever natural stone landscaping project you decide to go with, you want to be sure that you have a professional Toronto hardscaping contractor that you can trust on hand to ensure the work is done right and to make sure that you get the best results from your service.
Here at Ritestone Interlock & Landscaping, our team of Toronto landscaping specialists can offer you custom designed and professionally installed flagstone and natural stone patios, porches, walkways, walls, and much more. Our team of professional natural stone and flagstone installation experts can help you find the perfect pavers for your particular job to help you maximize its aesthetic appeal, and the value that is adds to your home. Every one of our professional natural stone landscaping experts are fully trained, licensed, and experienced in the field, so you can always count on receiving top-of-the-line work, no matter how simple or complex your particular project might be. Contact us today and let us help you transform your Toronto home's landscaping into the space you always wished it could be.
Give us a call today if you have any questions about our full line of professional interlocking stone installation services utilizing natural stone and flagstone, or if you would like to schedule an appointment for consultation with one of our specialists. Our team of experts are always standing by and would be more than happy to assist you.
Toronto's Natural Stone Installation Pros
Natural stone can be incorporated into a surprising number of different landscaping styles and designs, ranging from rustic, all the way to formal. These can include a wide variety of things, including natural stone cobblestones, pavers, walkways, driveways, and much more. Natural stone is actually an ideal material when it comes to covering grounds or created eye-pleasing surfaces around your Toronto home's landscape, and our team of natural stone landscaping professionals at Ritestone Interlock & Landscaping can help you get the most from your project. For instance, there are a number of different stone choices available to you, but with our professional help, you can find the perfect stone choices for your particular needs. Our team of professionals are highly experienced in working with all different types of natural stone for an even wider variety of different uses, so give us a call today.
Why Homeowners Should Hire Us For Their Natural Stone & Flagstone Landscaping Needs
The popularity of natural stone and flagstone surfaces for landscaping projects in Toronto has skyrocketed in recent years, and the number of uses that they are being implemented to serve are so varied that they can be mind boggling at times. The simple fact of the matter is that natural stone and flagstone can be a wonderful addition to any Toronto landscaping project, and our team of professionals at Ritestone Interlock & Landscaping can help you make the most out of it.
If you are looking for a professional that specializes in designing patios and other hardscaping features using natural stone and flagstone in Toronto, please call Ritestone Interlock & Landscaping at 416-881-5188 or complete our online request form.