Cedar Fence Design & Installation Pros In Toronto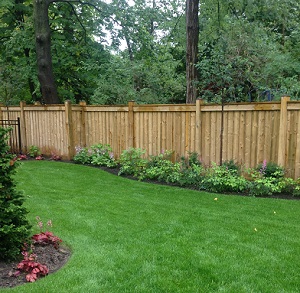 Unlike a number of other landscaping companies in the area, our focus is never on high volumes of production at the expense of quality for our customers. This is especially true when it comes to our full line of services for cedar fences in Toronto. Our team of highly skilled cedar fence installation professionals at Ritestone Interlock & Landscaping are ready and willing to take on any fence installation project, all you need to do is give us a call. We always deliver the same high quality results, no matter how big or small the job might be, and you can always count on us for dependable service and honest dealings. Our team of Toronto landscaping professionals stand behind their work 100%, and you can always count on the fact that if you don't consider the job done, then neither do we.
Here at Ritestone Interlock & Landscaping, we have been helping local homeowners design and install high quality fences in Toronto for over ten years now, and we always have the goal in mind to improve each service we perform a little bit more than the last one. We have made it our mission over the years to ensure that each and every Toronto homeowner we serve is able to get the best fence possible for their money. Our team of cedar fence design and installation professionals will work with you directly to make sure you get the perfect design you need to complement your home's landscape, and give you a seamless blend of function and aesthetic appeal that is guaranteed to boost the value of your home. We are ready to give you the fence of your dreams today, but we can't do so until you give us a call.
Give us a call today if you have any questions about our full line of professional cedar fence design and installation services, or if you would like to schedule an appointment for consultation with one of our specialists. Our team of experts are always standing by and would be more than happy to assist you however we can.
Building Cedar Fences in Toronto
Cedar fences have long been a top choice among home and business owners alike who are looking for a way to enclose their outdoor areas with something that is both elegant looking and durable. Choosing to make the investment in a high quality cedar fence for your home is a solid home improvement idea that can work the greatly enhance the value of your property. Cedar is such a sought after material when it comes to fence construction largely because of its natural durability and its rich look. The natural color of cedar makes it an instant eye-catcher, and when it come to function, cedar is a natural softwood that has a nice fragrance, is highly resistant to rotting and insect infestations, and is naturally porous, so it doesn't dry out as easily as other fence materials. In addition to these qualities, cedar is naturally resistant to shrinking and warping, and with the right care, can last you for decades without wearing out or losing its visual appeal.
Cedar Fencing Options
Just like there is no single type of pine, cedar comes in a wide variety of different types as well, giving you a great range of different options to choose from when you are picking the right material for your Toronto landscape's new fence. The Western Red Cedar is a light brown wood, with just a little hint of red, making is a perfect landscaping option is you are looking to contrast against lighter stonework or house colors. By contrast, Northern White Cedar is usually light yellow, ranging all the way to pure white, allowing your design to go in the complete opposite direction if that is more what you are looking for.
If you are looking for a landscaping professional that installs cedar fences in Toronto, please call Ritestone Interlock & Landscaping at 416-881-5188 or complete our online request form.