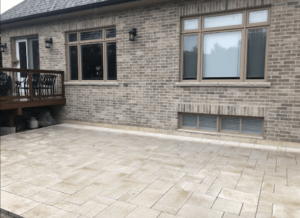 When it comes to maintaining a beautiful and safe landscaping environment for the exterior of your Toronto home, your landscape curbing might be more important than you realize. Broken or damaged curbing can not only be unsightly, but it can also be a serious tripping hazard for anyone who regularly walks around the area. Here at Ritestone Interlock & Landscaping, however, our team of professional hardscaping contractors can serve as your one-stop shop for all services related to french and concrete curbs in Toronto. Concrete curbing normally refers to the process of forming curbs for landscaping borders and a number of other purposes, and it is widely known its strength and its durable nature. While most people think of concrete and only think of the dull gray color it normally comes in, there are a wide variety of different colors, textures, and styles that concrete comes in, which tend to work very well for a number of different landscaping design projects, including the creation of borders within your yard. If you are looking for a great way to make different parts of your home's landscaping stand out, concrete curbing might be just the service you've been looking for.
When you are making the decision on which professional Toronto landscaping contractor to hire for all of your concrete curbing services, it is important to ensure that you are getting the assistance of a company that knows how to get the job done and get it done right. When you call in the experts at Ritestone Interlock & Landscaping, you can rest assured that you are getting the assistance of some of the most skilled and experienced Toronto concrete services and landscaping contractors in the area. In addition to high performance results, you can also expect to get the best in creative design as well. Our team of Toronto landscaping contractors know what it takes to combining stunning aesthetics with unmatched functionality, so give us a call today and let us help you take your landscaping to the next level.
Give us a call today if you have any questions about our full line of professional concrete curbing services, or if you would like to schedule an appointment for consultation with one of our specialists. Our team of experts are always standing by and would be more than happy to assist you in any way we can.
Repair & Installation of Concrete Curbs in Toronto
When it comes to landscaping, extruded curbing has the versatility to follow the curves and dips in your specific landscaping environment, making them an ideal solution if you are every looking to create a winding garden path or the like. Concrete curbing your home's landscape will help to prevent weeds and other unwanted plants from invading your flower beds and just generally causing trouble where you want it least. If these concrete curbs are taken care of properly, they can generally last you for the life of your home. Just because your curbs of made of concrete, doesn't mean they have to be dull and gray, however. There are a number of different colors, textures, and styles available for you to choose from, so you can truly get the custom look you've always wanted for you Toronto home's landscape.
Benefits Of Professional Concrete Curb Installation
Considering how long your curbs are supposed to last, and how much you are going to be relying on them, it only makes sense to ensure that your concrete curbs are installed by an experienced professional landscaping contractor. There are many variable that come into play during the installation process, and having a professional on hand greatly reduces the chance for anything to go wrong. When you call in the pros at Ritestone Interlock & Landscaping, you can rest assured that you have a team with the proper equipment and knowledge to get the job done quickly and efficiently.
If you are looking for a landscaping professional that installs french and concrete curbs in Toronto, please call Ritestone Interlock & Landscaping at 416-881-5188 or complete our online request form.