Installing Permeable Pavers in Toronto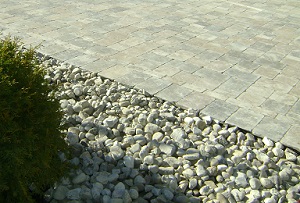 With the arrival of the 21st century, there have been a number of different environmental issues that have found their way to the forefront of the construction and landscaping industries. There are a number of local and state governments that have started to require higher standards in terms of the energy efficiency and the environmental impact of newly constructed buildings, especially when it comes to water run off. When more and more of a property is paved over, it tends to lead to higher levels of chemical runoff in lakes, rivers, and streams, while also reducing water clarity. To help local property owners get the most out of their property, our team of professional Toronto landscaping specialists at Ritestone Interlock & Landscaping offer a wide range of high quality landscaping services, including the design and installation of permeable pavers for the various hardscape surfaces around your property. These surfaces are designed in such a way as to still give you a thoroughly paved area on your property, but still allow water to filter through the surfaces and flow where it needs to go.
When it comes to high quality permeable paver and interlocking stone solutions for your Toronto property, you want to be sure you have getting the service of a team of highly skilled professionals who have the knowledge and experience needed to make sure the work is done right, and done right the first time. Our team of Toronto landscaping services professionals here at Ritestone Interlock & Landscaping are ready to help you with all of your permeable paver design and installation needs, so give us a call and let us help you make the most out of your home or business' landscape.
Give us a call today if you have any questions about our full line of professional permeable paver design and installation services, or if you would like to schedule an appointment for consultation with one of our skilled specialists. Our team of experts are always standing by and would be more than happy to assist you.
The Source for Permeable Paver Services in Toronto
Permeable pavers are an excellent addition to almost any property's landscape because they provide a hard surface for walking or for vehicles while still allowing for the drainage of storm water directly into the ground. Standard paved surfaces give this runoff nowhere else to go but directly into our community's storm drain system, which is quickly becoming overwhelmed due to the increase in paved surfaces over the years. There are usually a couple of methods to create these permeable paved surfaces, the first of which involves utilizing more traditional materials, but allowing for open space between the actual pavers. These open spaces are usually filled with soil, grass, or gravel in order to allow the water to drain into the soil below. The second method is to use pavers made of more porous materials, like permeable concrete. These surfaces don't need open spaces because the materials themselves allow water to filter down through them and into the soil. Both of these options are great ways to reduce the amount of storm water that needs to be managed by your storm drain system.
Permeable Paver Driveways & Sidewalks
Driveways, sidewalks, and patios are all great areas to make use of permeable pavers. Driveways in particular are an excellent option for this type of construction as this large surface is usually sloped down almost directly to a storm water drain, and a driveway made of permeable pavers help to significantly reduce the amount of water run off that drain system will need to deal with.
If you are looking for a landscaping professional that installs permeable pavers in Toronto, please call Ritestone Interlock & Landscaping at 416-881-5188 or complete our online request form.