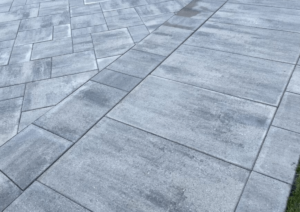 Interlocking stone can be a wonderful way to install a brand new custom stone surface for your Toronto home's landscape, but without the right regular care, your lovingly crafted custom surface could wind up looking a bit lackluster over time. One of the best ways to ensure that you and your family are able to continue to enjoy the beauty of your hardscapes for now and many years to come is to make sure that you have a professional company on hand that can assist you with all of the interlocking stone repair and sealing services you need to keep your landscaping design looking its best. Our team of professional interlocking stone installation experts here at Ritestone Interlock & Landscaping have the skill, experience, and knowledge necessary to make sure that your interlocking stone landscaping surfaces have the care they need to truly stand the test of time.
The process of installing an interlocking stone landscaping surface is actually a fairly precise art. The stone must be layered on a solid base of at least 12 inches which has to be composed of 8 inches of 3/4 crushed limestone, and 4 inches of limestone screenings. After laying this base, the area then needs to be firmly compacted to prevent your interlocking stone from shifting or sinking. By taking care now during the installation process, it is not uncommon to see an interlocking stone landscaping surface last upwards of thirty years with the proper repair and maintenance from time to time. For all of your Toronto home's interlocking stone repair and sealing needs, make sure to call in the professionals who have a proven history of being able to get the job done.
Give us a call today if you have any questions about our full line of professional interlocking stone repair and sealing services, or if you would like to schedule an appointment for consultation with one of our experienced landscaping specialists. Our team of experts are always standing by and would be more than happy to assist you.
Interlocking Stone Repair Services for Toronto Area Homes & Businesses
Here at Ritestone Interlock & Landscaping, we provide a number of different services all aimed at helping you keep your interlocking stone landscaping services looking and functioning great for a long time to come. Our team of Toronto landscaping professionals can help you with everything from broken or chipped stones, to sinking surfaces, and everything in between. We even offer a re-leveling service for interlocking pavers that have started to sink over the years. Before we do this, however, we always check to make sure that the base was properly excavated to 12 inches, as an improperly excavated base tends to be the most common factor. Sometimes, though, even if the job was done right, you can still experience sinking from time to time. Whatever your needs may be, our team of professional Toronto interlocking stone landscapers will help you get your landscaping features back to looking their best.
Toronto Interlocking Stone Sealing Experts
Taking the time to have your interlocking stone landscaping surfaces properly cleaned and sealed is one of the best ways to protect your investment. Even though your paver stones receive a lot of wear and tear over the years, they have the potential to last for a very long time, especially if you give them the proper care they need. During the cleaning and sealing service, stains will be treated, joints will be refilled, damage will be repaired, and weeds and ant colonies will be removed. After this, a transparent layer will be put down over the pavers, helping to preserve their color and protecting them from further damage.
If you are looking for a professional that offers interlock stone repair and sealing services in the Toronto area, please call Ritestone Interlock & Landscaping at 416-881-5188 or complete our online request form.