High Quality Stone Flowerboxes In Toronto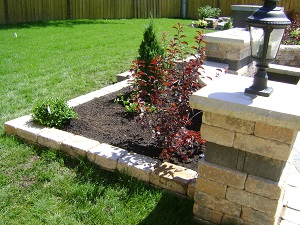 When it comes to creating a visually stunning and durable flowerboxes in Toronto that really set off a home's landscape, nothing quite compares to the beauty and strength you get from natural stone. Natural stone has been a preferred material for landscaping for centuries, and has been utilized in some of the most significant and beautiful buildings and homes for good reason. Stone has long been valued for its aesthetic appeal, and remains an extremely popular material choice to this day, especially when it comes to exterior landscaping services for both residential and commercial properties alike. One particularly stunning feature that can really take your home's landscaping design to the next level is the installation of a natural stone flowerbox to help define and highly your garden area. Our team of professional Toronto landscaping and interlocking stone specialists at Ritestone Interlock & Landscaping can help you bring this vision to life, and all you have to do is give us a call.
When you make the decision to install new natural stone flowerboxes on your property, you want to make sure that you have the assistance of a team of professionals who can design and install your new landscaping features in such a way that they both serve their intended function, and they accent your outdoor spaces in a pleasing way at the same time. With the help of our experienced landscaping professionals at Ritestone Interlock & Landscaping, you can have that pleasantly defined garden area that you have always wanted for your property, and a new stone accent piece to add a new level of elegance to your outdoor areas. We have a wide variety of different stone types and colors that you can choose from, and our team of professionals will work with you to create the custom designed flowerbox that is perfect for your particular space.
Give us a call today if you have any questions about our full line of professional natural stone flowerbox design and installation services, or if you would like to schedule an appointment for consultation with one of our specialists. Our team of experts are always standing by and would be more than happy to assist you in any way we can with your landscaping service needs.
Natural Stone Flowerbox Design Experts
As the real natural stone flowerbox experts of the Toronto area, we make it a point to provide you with all of the various options you need to truly turn your flowerbox design into something spectacular. Because natural stone is so varied, it is extremely helpful to have the assistance of a professional landscaping contractor on hand to assist you in finding the perfect type and cut of stone to help you create a custom flowerbox that really works to highlight the beauty of your garden and your landscape as a whole. When you hire the professionals at Ritestone Interlock & Landscaping to help you with your flowerbox design and installation, you can rest assured that our team of Toronto landscaping professionals will leave you with a finished product that will wow your family and friends alike.
Stone Flowerbox Installation Services in Toronto
Here at Ritestone Interlock & Landscaping, we are committed to making sure that you receive the highest service throughout every step of your new stone flowerbox installation project for your Toronto home. All of our stones are loaded onto truck and pallets carefully to prevent any breakage or damage, meaning that you never have to worry about getting inferior quality products for your landscaping project. Our team of professionals are completely committed to ensuring that you receive only the highest level customer service and quality products that will last you for many years to come.
If you are looking for a landscaping professional that installs natural stone flowerboxes in Toronto, please call Ritestone Interlock & Landscaping at 416-881-5188 or complete our online request form.