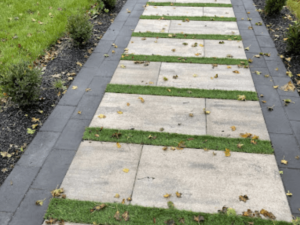 There are too many homeowners out there today who settle for less than the best when it comes to driveways in Toronto. Having your dream home doesn't stop once you reach the outside of your house. In fact, there are many out there that would argue the exterior of your home is really where the dream home design process actually begins. The exterior of your home deserves just as much attention to detail as the interior of your home gets, and that includes your home's drive. Luckily, our team of professional Toronto landscaping pros here at Ritestone Interlock & Landscaping specialize in the design and construction of high quality driveway surfaces for all of our valued customers throughout the local area.
When you are looking for quality, trust the team of landscaping and hardscaping professionals at Ritestone Interlock & Landscaping to take care of the work for you. Our team of professionals are highly skilled, trained, and experienced in this line of work, and we won't rest until you have the high quality driveway surface you need to take your Toronto home's design to the next level. We believe you should never have to settle for a basic, drab, concrete driveway, especially not when there are so many wonderful interlocking and natural stone options out there for you to take advantage of. Your driveway makes up a very distinct part of your home's exterior appearance, so shouldn't that surface be just as stunning as any other surface in your home? The effect that a high quality interlocking stone or natural stone driveway can have on the overall aesthetic of your home is simply stunning, and our team of professionals are ready to help you turn that dream into a reality. We guarantee that not only will your new interlocking or natural stone driveway enhance the curb appeal of your home, but it will also boost your home's value as well.
Give us a call today if you have any questions about our full line of professional interlocking and natural stone driveway design and installation services, or if you would like to schedule an appointment for consultation with one of our specialists. Our team of experts are always standing by and would be more than happy to help.
Interlocking Paver Driveways in Toronto
Without a doubt, one of the most durable and aesthetically pleasing choices when it comes to Toronto driveways is interlocking stone pavers. The interlocking field of individual bricks actually help to more evenly spread the weight better than either concrete or asphalt are able to, and since they aren't mortared together, they are able to flex in freeze and thaw conditions to a much greater degree as well. The effects of upheaval that come along with concrete slabs and asphalt can virtually be a thing of the past. In addition, interlocking stone paver driveways can be designed to give your driveway a custom look and style that simply can't be matched by most other materials. Interlocking stone pavers are produced in hundreds of different shapes with countless different color options, so the possibilities are literally endless.
Interlocking Stone & Concrete Driveway Installation Pros
When it comes to having a custom driveway installed for you Toronto home, you want to be sure you are getting an option that is both aesthetically pleasing, but also highly durable. Our team of driveway design and installation experts use only the finest quality materials in all of our work, letting you have peace of mind that your Toronto home's new driveway will stand the test of time.
If you are looking for a landscaping professional that installs concrete and interlocking stone driveways in Toronto, please call Ritestone Interlock & Landscaping at 416-881-5188 or complete our online request form.