High Quality Residential Landscaping Services In Toronto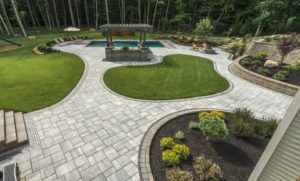 When it comes to keeping your home's landscaping looking healthy and aesthetically pleasing, it pays to enlist the help of a professional
Toronto residential landscaping
professional like our team of experts here at
Ritestone Interlock & Landscaping
. Residential landscape design is a bit of an art form, and our team of professionals can help you come up with the perfect design to bring the sense of peace and tranquility that you've always wanted to your home. No one wants to come home after school or work everyday to a home where the yard looks dingy, ill-kept, or just poorly designed. In many cases, seeing all that needs to be done to your home's landscape can actually trigger more stress as you realize that more and more needs to be done in order to get it just the way you want it. When you choose to put your trust in a professional
Toronto landscaping service
company, however, you can always rest assured that when you come home, you will be coming home to a landscape that looks immaculate, helping you breathe a sigh of relief and put your mind at ease. When our team of residential landscaping specialists take the time to carefully plan out a landscape design for your home, we are not just doing so out of a desire to get the job done; we are doing so as an investment in your well being and happiness as well. Our team of landscaping professionals take pride in the quality of the work that we are able to consistently deliver to each and every one of our customers, which is why we make it such a priority to come up with a landscape design that is so perfectly suited to you and your home. We believe that once you see the finished results of your landscaping service, you won't have a doubt in your mind as to whether it was all worth the time and investment. Give us a call today if you have any questions about our full line of professional residential landscaping and
interlocking stone
services, or if you would like to schedule an appointment for consultation with one of our specialists. Our team of experts are always standing by and would be more than happy to assist you in any way we can.
High Quality Residential Landscaping Services In Toronto
Here at Ritestone Interlock & Landscaping, we offer a number of different high quality residential landscaping service to all of our valued clients, including:
Interlocking Stone Landscaping
Natural Stone Landscaping
Driveways
Patios
Retaining Walls
And Much More…
Residential Landscape Design For Backyards
When you are designing your dream home landscaping project, it is important not to forget about the backyard just because you won't be able to see it from the street. With the right design in place, your backyard can become a relaxing haven away from the rest of the world, giving you, your family, and your friends an excellent place to gather together and forget about the cares of everyday life.
If you are looking for a reliable company that offers professional residential landscaping services in Toronto, please call Ritestone Interlock & Landscaping at 416-881-5188 or complete our online request form.