Professional York Landscaping Contractors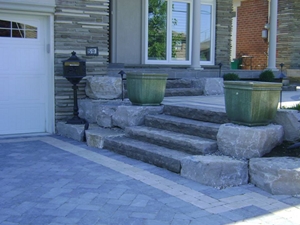 When your are on a mission to fix up your home, it is always good to keep in mind what an important aspect of your home's exterior design rests on the condition of your landscaping. Your home's landscaping is a major factor in the overall look and design of your home, and can affect both your curb appeal and the value of your home in a major way, especially if you ignore them. Here at Ritestone Interlock & Landscaping, our team of professional York landscaping contractors can provide you with all of the high quality landscaping services you need to keep your property value high while still giving you the aesthetic and functional qualities you would like from your home to help you enjoy it to the fullest. Here at Ritestone Interlock & Landscaping, we provide a number of high quality landscaping services to all of our customers throughout York and the surrounding areas, whether they are commercial or residential. So, when you are looking for the name of a professional landscaping contractor to call on for your next outdoor project, trust the team of experienced professionals at Ritestone Interlock & Landscaping.
I addition to our line of wonderful landscaping services we provide to our York customers, we also specialize in the design and installation of a host of high quality hardscaping services designed to help you make the most of your York landscape. Hardscaping usually consists of various landscaping features constructed from natural stone, rocks, or other hard materials in order to create lasting, beautiful features to enhance the overall exterior design of your home. From interlocking stone walkways and driveways, to concrete or stone retaining walls, and even the design and installation of full outdoor kitchens, our team of experienced professionals have the skill and expertise to make it happen.
Give us a call today if you have any questions about our full line of professional landscaping and interlocking stone services, or if you would like to schedule your appointment for consultation with one of our highly skilled specialists. Our team of experts are always standing by and would be more than willing to assist you in any way we can.
High Quality York Landscaping Services
Here at Ritestone Interlock & Landscaping, we have a number of high quality landscaping and hardscaping services that we specialize in, including:
Interlocking Stone Driveways, Walkways, & Patios
Custom Wooden Fences, Pergolas, & Gazebos
Natural Stone Retaining Walls & Flower Boxes
And Much More…
Interlocking Stone Services In York
When it comes to finding the right material for your new walkway, driveway, or patio, interlocking stone pavers is a choice that is second to none. The design of these stone pavers means that there will be less shifting over the life of the surface, and the wide variety of different paver shapes, sizes, and designs means that the sky's the limit when it comes to designing a custom surface for your home's landscape.
If you are looking for a professional that specializes in landscaping and interlocking stone in York, please call 416-881-5188 or complete our online request form.