High Quality Landscaping Contractors In Newmarket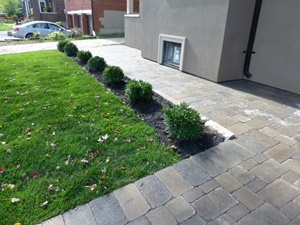 Here at Ritestone Interlock & Landscaping, our team of highly skilled Newmarket landscaping contractors are specialists when it comes to turning your existing home into the home of your dreams. We believe that landscaping is about more than just keeping your lawn mowed when it's time. We believe that keeping your landscaping looking great is an art form that should change and flow as time goes on to reflect the changes in your personal tastes and style. Your needs change as time goes on, so shouldn't your Newmarket home's landscaping change to better provide for those needs? With the help of a professional Newmarket landscaping contractor, you can get the high quality services you need to add curb appeal, beauty, and value to your home while customizing its function to provide for the needs of you and your family. Whether you are looking for new interlocking stone patios, driveways, retaining walls, or complete outdoor kitchen installations, our team of professionals Newmarket landscaping contractors at Ritestone Interlock & Landscaping are here to help.
Whenever you make the decision to have landscaping services performed on your property, it is extremely important to ensure that you have the help of an experienced professional to ensure that everything is built properly and has everything it needs to stand the test of time. Landscaping and hardscaping is something that shouldn't be attempted unless you have the right experience and skill, as a poor job can actually wind up hurting the value of your home, in addition to causing problems with improperly installed landscaping features. For all of your Newmarket home's landscaping needs, the name in quality that you can always trust is Ritestone Interlock & Landscaping.
If you have any questions about our full line of professional landscaping and interlocking stone services, or if you would like to schedule your appointment for service with one of our highly skilled specialists, give us a call today. Our team of experts are always standing by and would be more than happy to assist you in any way we can.
Professional Landscaping Services In Newmarket
We have a number of different high quality landscaping services available to all of our valued customers in Newmarket and the surrounding areas, including:
Interlocking Stone Patios
Concrete Walkways
Outdoor Kitchens
Waterfalls
And More…
Newmarket Waterfall Installation
Nothing quite brings together your Newmarket home's landscaping design like the installation of a custom designed natural stone waterfall feature. The aesthetic appeal that one of these high quality features can add to your home is quite stunning, and can give your home a big boost in value at the same time.
If you are looking for a professional that specializes in landscaping and interlocking stone in Newmarket, please call 416-881-5188 or complete our online request form.