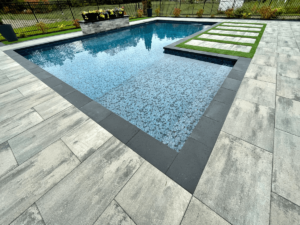 Inground pools are more than just a swimming pool, they're a lifestyle. They transform the average and boring backyard landscape, into a luxurious and exotic home resort.
These aren't the typical prefabricated fiberglass pool kits you can pick up at any shop. We custom design your in-ground pool and all surroundings. This allows us to conform to any shape or size you can think of.
Let the expertise and experience of RiteStone professionals develop your backyard into an oasis. Enjoy a summertime of cottage living without the traffic jams and high gas prices.
RiteStone will expertly design, source and construct your pool oasis with one-stop service.
Everything from pool construction, hardscaping and outdoor kitchens, to idyllic relaxation areas to make your back yard look like an exclusive resort & spa.
From lighting, to water, garden and fire features. Entertain like an expert with a quality steel pool, steps, retaining walls, patios and even outdoor kitchens to your friends' and family's delight.
Watch the backyard transformation in this sequence of photos… needless to say, our client was ecstatic