High Quality Retaining Walls in Toronto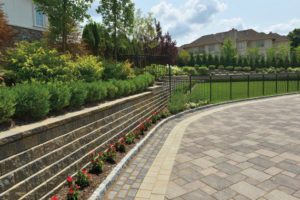 Here at Ritestone Interlock & Landscaping, we are at the forefront of high quality installation and repairs services for retaining walls in the Toronto area. Our team of professionals have helped countless homeowners install and maintain their landscaping walls over the years, and we have no intention of slowing down anytime soon. Our team of Toronto interlocking stone and landscape design professionals take a great amount of pride in what we do and the high quality retaining wall services we are able to deliver to each and every one of our local customers. Our team of highly skilled landscaping contractors are constantly striving for excellence in all the work we do, which is part of what has made us the premier name in Toronto landscaping contractors.
Here at Ritestone Interlock & Landscaping, we have a knack for helping homeowners create the ultimate mix of functionality and aesthetic appeal when it comes to high quality retaining wall design and installation services. The most important thing to remember with this particular type of landscaping project it to ensure that you have the help of a seasoned professional on hand to help guide you through the design and installation process. Without professional help, you could easily wind up with a new retaining wall that could be giving you trouble straight from day one. Not to mention when retaining walls are put up improperly, they will very rarely give you the level of dependability that you were looking for, and could even wind up needing replacement well before their time. You should never take chances when it comes to your Toronto home's retaining wall installation services. Make sure you have the service of a trained, experienced, and skilled professional Toronto landscaping services expert here at Ritestone Interlock & Landscaping.
Give us a call today if you have any questions about our full line of professional retaining wall design and installation services, or if you would like to schedule an appointment for consultation with one of our specialists. Our team of experts are always standing by and would be more than happy to assist you.
Installing Stone Retaining Walls in Toronto
Retaining are a wonderful addition to nearly any landscaping project, and they can be made from a number of different materials, including concrete, stones, boulders, large slabs, and even railroad ties. Not only do these landscaping features look aesthetically appealing, but they also provide you with a great deal of security for your garden and landscaped area. It is also extremely easy to incorporate a retaining wall into your Toronto home's landscaping design, as the natural materials they are normally constructed from tend to help them appear as part of the landscape. However, you can choose to highlight these areas, and make them a focal point of your home's landscape by adding things like fountains, plants, or a variety of other additions. With so many options available to you, there really is something for every design when it comes to high quality retaining walls.
Garden Wall Design Services
Designing the right retaining wall for your specific landscape can actually be a fairly simple process, and they can be made to look like a natural part of your home's exterior with very little effort, but in order to do so, you want to make sure you have a professional on hand to take care of the construction. Our team of professionals here at Ritestone Interlock & Landscaping are ready to help you make your retaining wall landscape addition a reality today.
If you are looking for a landscaping professional that installs retaining walls in Toronto, please call Ritestone Interlock & Landscaping at 416-881-5188 or complete our online request form.