Professional Landscaping Contractors In Scarborough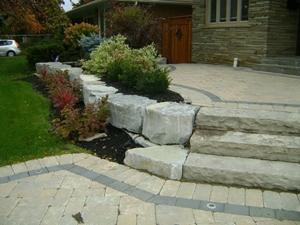 When it comes to high quality landscaping in Scarborough, the only name you need to know is that of Ritestone Interlock & Landscaping. Our team of professional Scarborough landscaping specialists at Ritestone Interlock & Landscaping have been providing the local area with the high quality landscaping services they need to make the most out of their homes for over ten years now, and we have no intention of slowing down anytime soon. Over our years of service, we have established a reputation for ourselves among local homeowners as the company you can count on to help you maximize both the value and the curb appeal of your Scarborough home. We work with both residential and commercial clients in the area, and our team of professionals have the skill, experience, and training necessary to help you with a wide variety of high quality landscaping and hardscaping services.
Here at Ritestone Interlock & Landscaping, we consider both form and function to be of nearly equal importance. This means that we dedicate an equal amount of effort in both ensuring that your home has the utility you need it to, while still providing you with the beauty to turn the heads of everyone who passes by. Our team of professional landscaping contractors believe you should never have to settle for ordinary when it comes to your home's landscaping, and we want to help you unlock that hidden potential for greatness. We guarantee that you are going to love the look of your finished project, and we will make sure your property gets the care it needs to keep your new landscaping project looking its best for as long as possible.
Give us a call today if you have any questions about our full line of professional landscaping and interlocking stone services, or if you would like to schedule an appointment for consultation with one of our specialists. Our team of experts are always standing by and would be more than happy to assist you in any way we can.
Landscaping Services To Keep Your Scarborough Home Looking Its Best
Here at Ritestone Interlock & Landscaping, we offer a number of high quality landscaping and hardscaping services with the single goal of helping our customers keep their properties looking their best. Some of our most popular services include:
Interlocking Stone Walkways, Driveways, & Patios
Natural Stone Patios, Retaining Walls, & Flowerboxes
Permeable Paver Driveways, Walkways, & Patios
And Much More…
Natural Stone Retaining Walls In Scarborough
There are a number of great benefits that come along with investing in high quality natural stone retaining walls for your home's landscaping. Retaining walls help to create a multi-tiered appearance for your garden areas, and also help to protect your landscape from runoff in the event of heavy rains. Natural stone has the durability necessary to stand up to the weather and keep your soil in place, and also provides a tasteful accent piece to your landscape overall.
If you are looking for a professional that specializes in landscaping and interlocking stone in Scarborough, please call 416-881-5188 or complete our online request form.