Toronto's Walkway Specialists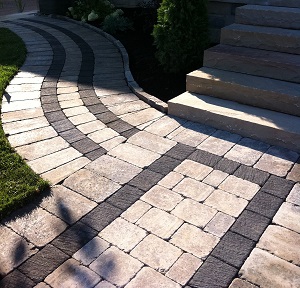 If you find yourself in need of a specialist to help you create the perfect walkways in Toronto for your home or commercial landscaping project, you have come to the right place. Here at Ritestone Interlock & Landscaping, our team of professional Toronto landscaping specialists take a great amount of pride in the high quality results that we are able to deliver to each and every one of our clients. Whether you are planning to redo your home's entire landscape, or to install some brand new interlocking stone walkways to enhance the function and the aesthetic of your outdoor spaces, our team of experts can be on hand quickly to make sure the job is done right and you get exactly what you are looking for from your service. Just because a walkway seems like a simplistic thing to install, doesn't mean that you can get away with putting minimal effort and planning into it and expect the project to turn out great. Give our team of professional Toronto landscaping contractors a call today and let us help you design and build the walkway of your dreams.
Here at Ritestone Interlock & Landscaping, we create custom, stunning walkways that tie into your home's landscaping perfectly. We can create these walkways from the same materials that you have used in your patio or deck area, or we can use something completely different if you are looking for some for of differentiation. There are a wide range of different materials and designs for you to choose from, and a number of options out there to fit any budget. All it takes is one call to our team of landscaping professionals, and you are one step closer to having the landscape of your dreams for your Toronto home.
Give us a call today if you have any questions about our full line of professional walkway design and installation services, or if you would like to schedule an appointment for consultation with one of our specialists. Our team of experts are always standing by and would be happy to help.
High Quality Interlocking Stone Walkway Services
Our team of highly skilled Toronto landscaping professionals here at Ritestone Interlock & Landscaping offer a number of different walkway design and installation services to our local customers, including:
Interlocking Stone Walkways
Natural Stone Walkways
Flagstone Walkways
And Much More…
Toronto Walkway Installation Services
If you are looking for a great way to enhance the welcoming nature of your home's exterior, you can't do much better than installing a high quality stone walkway. A walkway that is both well planned and attractively designed can function almost like a welcome mat for the exterior of your home, and helps you establish a beautiful route through your Toronto home's landscape.
If you are looking for a landscaping professional that installs interlocking stone walkways in Toronto, please call Ritestone Interlock & Landscaping at 416-881-5188 or complete our online request form.