Building Gazebos in Toronto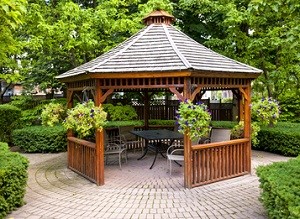 Are you looking for a great way to update your property and give it a great new feeling of convenience and luxury? If so, our team of landscaping professionals at Ritestone Interlock & Landscaping could have just the solution for you. We offer a full compliment of professional gazebo design, repair, and construction services to help you get the new, luxurious look you've always wanted for your home's landscape. Making the decision to invest in gazebos in Toronto is a great way to quickly and beautifully improve the overall look aesthetic of your landscaping while giving you, your family, and your friends a comfortable spot to gather together and enjoy the outdoors.
With the addition of a new gazebo to your Toronto home's landscape, you are not only adding a distinct new feature to your property, you are creating a social hub right in the middle of your backyard. A high quality gazebo creates a unique gathering place for your family and friends that offers you protection from the sun and rain, and when you have it screened in, can even be a safe haven away from mosquitoes and a number of other pesky insects as well. No two gazebos are exactly the same, and our team of professionals enjoy the thrill of working with our customers to design them something truly unique to make their home stand out from all of the others. Our team of professional Toronto landscaping contractors have the skill, training, and experience necessary to deliver exactly the kind of results you are looking for when it comes to your custom gazebo project, so reach out today and let us show help you transform your home's landscape.
Give us a call today if you have any questions about our full line of professional gazebo building services, or if you would like to schedule an appointment for your consultation with one of our wood working specialists. Our team of experts are always standing by and would be more than happy to assist you in any way we can. Whether you want a custom gazebo installed or are more interested in our fences in Toronto, one call is all it takes to get moving toward a better landscape design with Ritestone Interlock & Landscaping.
New Gazebos For Privacy & Peace
Adding a gazebo to your property can do a lot more than just increase your home's value, although that is a significant benefit. A thoughtfully designed and professionally installed gazebo can help you create a pleasant space where you can retreat to and feel at ease, no matter what the day throws at you. When you run the risk of getting caught up in the rat race of everyday life, a gazebo can give you and your family a cozy and relaxing place to gather together and unwind at the end of a stressful day. Here at Ritestone Interlock & Landscaping, we offer a number of different gazebo styles and options to suit your personal tastes as well as your budgetary needs. Give us a call today and let us help you turn your backyard into the image of tranquility with a custom designed gazebo.
High Quality Wood Gazebos in Toronto
While gazebos tend to come in either wood or vinyl, wood is most often going to cost you a great deal less than vinyl would. If you prefer the natural look for your Toronto home's landscaping features, wood is going to be your best choice. We have a number of different wood types and colors for you to choose from, so get with our team of professional designers today and take the first step to taking your custom wood gazebo from concept to reality.
If you are looking for a landscaping professional that installs gazebos in Toronto, please call Ritestone Interlock & Landscaping at 416-881-5188 or complete our online request form.