Professional Landscaping Contractors In Willowdale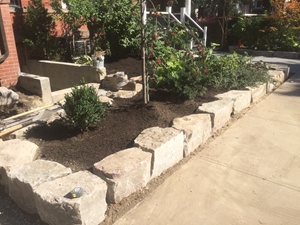 Here at Ritestone Interlock & Landscaping, our team of professional Willowdale landscaping contractors have become experts at working with a wide variety of different types of landscaping clients over our years of service. We have come across clients that know exactly what they want, down to the very last detail, while we have other clients who have no idea whatsoever as to what they want to do. No matter how far along they are in their planning process, however, each of our clients are united in their goal of maximizing the beauty and value of their homes. Homeowners throughout the Willowdale area know that when they call on the landscaping professionals at Ritestone Interlock & Landscaping, they are getting a team of professionals who have proven time and again that they have what it takes to deliver the high quality and fully customized services that our customers need to get exactly what they're looking for from their homes.
In order to make sure that each and every one of our customers' needs are met 100%, our team of Willowdale interlocking stone and landscaping professionals work directly with our customers to ensure that all aspects of your landscaping design are in place before any work ever begins. Since 2005, homeowners in the area have come to know us as a company they can trust for all of the quality landscaping services they need, whether they are looking for interlocking stone driveways, natural stone patios, or even full outdoor kitchen design and installations. Whatever your needs may be, you can always count on the landscaping professionals at Ritestone Interlock & Landscaping to help you take your design from concept to reality.
Give us a call today if you have any questions about our full line of professional landscaping and hardscaping services, or if you would like to schedule an appointment for consultation with one of our specialists. Our team of experts are always standing by and would be more than happy to assist you however we can.
High Quality Hardscaping Services In Willowdale
Here at Ritestone Interlock & Landscaping, we offer a number of high quality hardscaping services to all of our local clients. All of our services are custom tailored to each customer's particular needs, and provide our customers with a number of excellent hardscaping possibilities, including:
Interlocking Stone Pavers
Natural Stone Patios & Retaining Walls
Outdoor Fire Pits
Waterfall Features
And Much More…
Outdoor Fire Pits In Willowdale
If you and your family love the outdoors, there are few things that can enhance the experience like a natural stone fire pit incorporated directly into your home's landscape. Not only does this provide you with a natural focal point for your home's landscaping, but it also give you and your family a cozy area to huddle together, share laughs, and even roast marshmallows if the mood strikes. A natural stone fire pit is a great way to enhance the function and value of your home at the same time.
If you are looking for a professional that specializes in landscaping and interlocking stone in Willowdale, please call 416-881-5188 or complete our online request form.