Installing Custom Concrete Steps in Toronto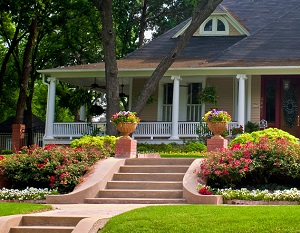 Whether it is for commercial or residential use, concrete steps and stairs in Toronto need to be constructed with durability in mind. As one of the Greater Toronto Area's most trusted landscaping and hardscaping contractors, our team of professionals can work to provide you with the high quality and long-lasting concrete steps that you need to take your upcoming landscaping project to the next level. Our team of professional concrete step design and installation specialists here at Ritestone Interlock & Landscaping have a wealth of experience in this line of work, and they are ready to help you make the most out of your next landscaping project.
Concrete is extremely durable, and can support surprisingly heavy loads with relative ease, and when it is installed properly, it can last you a lifetime. All of these qualities add up to make concrete an excellent material choice for steps and stairs for your home's outdoor areas. In addition to its durable nature, concrete comes in a wide variety of different colors, textures, and patterns for you to choose from. With the wide array of different aesthetic choices at your disposal, you have everything you need to make your new concrete steps the focal point of your entire landscape's design, and our team of Toronto landscaping professionals would love to help you make sure that your new steps are not only functional, but are also visually stunning.
When it comes to concrete services in Toronto, such as installing residential or commercial steps and stairs, our team of local professionals at Ritestone Interlock & Landscaping have the skill, experience, and training needed to ensure that your landscaping project is a success. We have a reputation among our customers as a company that takes an immense amount of pride in the high quality results we are able to deliver to our customers, each and every time, no matter how simple or complex the job might be.
Give us a call today if you have any questions about our full line of professional concrete step design and installation services, or if you would like to schedule an appointment for consultation with one of our specialists. Our team of experts are always standing by and would be more than happy to assist you.
Concrete Step Construction & Installation Services
The process of installing concrete steps is a fairly complicated one, and something that is definitely better left to professionals with experience in the matter. After prepping the surface by cleaning and digging it out, it then has the filled with gravel and plywood frames are constructed to the dimensions that you want your steps to be. After we ensure that everything is correct, we then mix the concrete and pour it into the frame, making sure to smooth out the stop and ensuring that the edges are all neat and clean. Finally, after the surface has dried, we seal and weatherproof everything, helping you keep it protected all year round.
Concrete Steps & Stairs In Toronto
When you have weather that gets as rough as it does up here in Toronto, you need to be sure that your steps are constructed in a way and from a material that will hold up to the punishment they get. When your concrete steps are properly sealed and weatherproofed, neither freezing winters, nor sweltering summers will be a problem. You can count on your concrete steps to continue to stand strong all throughout the year.
If you are looking for a professional that installs concrete steps in Toronto, please call Ritestone Interlock & Landscaping at 416-881-5188 or complete our online request form.