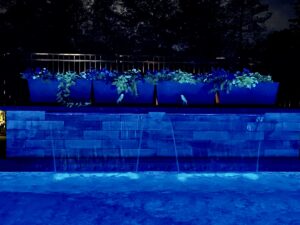 The landscaping is usually one of the most important aspects of any home renovation project, and that's because your Toronto area home' landscaping is usually one of the first things that people are going to notice when they look at your home. There are few things that can bring as much life to your landscaping project like including a water feature, and among water features, ponds and waterfalls are two of the most popular. Water features can do more for your home than just improve its aesthetics, however.
The sounds of running water has a soothing effect on most people, and has even been shown to reduce your stress levels, which is something that most of us consider extremely important, especially after a long day at work. In addition to this soothing, and stress reducing effect, there are a number of other benefits that come along with installing a new pond or waterfall feature in your home's landscape. To help you with the decision of whether or not installing a new water feature on your landscape is right for you, we have put together a short list of three benefits that a new pond or waterfall feature can have on your landscape.
Enhanced Curb Appeal
A well designed pond or waterfall feature can add a great deal of curb appeal to your home. If you are looking to make your home's landscape as beautiful as it can be, a new pond or waterfall could be exactly what you have been looking for to really set off your landscaping. There are a wide variety of different waterfall and pond designs available for you to choose from, and many of the different designs can be utilized to enhance the appeal of a variety of different home types. For example, contemporary homes will often look better with clean water walls, waterfall spillways, and ponds with flat concrete walls, while luxury homes usually work better with with more resort-style features, including artificial rock waterfalls and similar enhancing features.
Increase Your Home's Value
Homes that incorporate ponds and waterfall features in their landscapes have been known to have higher property values than those with less put into their landscape design. This can be extremely important if you ever plan on selling your home somewhere down the line. When you add a well designed and aesthetically appealing pond or waterfall feature to your home's landscaping, your home's value is going to increase immediately, and your home becomes a great deal more attractive to prospective home buyers, and giving you an edge over any competing properties. These particular water features, when well designed, will operate throughout most of the seasons without ongoing maintenance costs. It is important to make sure that the feature is installed correctly, however, as a poorly installed feature could actually wind up hurting your property value instead.
Drown Out Noise Pollution
A pond or waterfall feature in your home's landscaping is a great way to diminish the noise pollution in your surroundings. Most noise machines use ocean sounds, or the sounds of falling water, or river noises for good reason. The sounds of water are soothing and have a way of blocking out other annoying sounds like those of traffic or construction. If you have a home that is situated near a busy street, or if the cars in your neighborhood are frequently driving by playing loud music, a new pond or waterfall feature can be a great way to suppress those noises with a relaxing white noise that you always have access to.
If you are looking for a professional pond or waterfall installation professional in the Toronto area, give Ritestone Interlock & Landscaping a call today at 416-881-5188 or fill out our online request form.