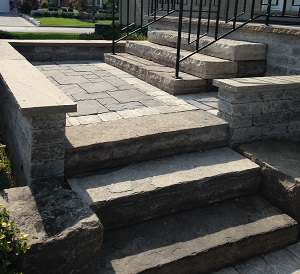 When you are trying to create the perfect landscape design for your home or business, it is very easy to get caught up in the various separate parts of your yard, and you wind up neglecting the features that connect it all together. This is where you can greatly benefit from the experienced help of a professional Toronto landscaping contractor. Here at Ritestone Interlock & Landscaping, our team of highly experienced hardscaping contractors can help you with a variety of different connecting hardscape projects, including the popular service of installing stone steps in Toronto. Our team of expert Toronto landscaping contractors can help you replace your old steps that don't quite go with your new landscaping design, or help you install a completely new set of stone steps to add the finishing touch to your home's landscaping and exterior design.
When it comes to high quality landscaping services in the Toronto area, the only name in quality you need to know is Ritestone Interlock & Landscaping. Our team of professionals are fully licensed, trained, and experienced in the field, and we have developed a reputation over the years as a company that does everything in its power to ensure you get the high quality landscaping results you need to make the most of your home's outdoor areas. Our team of Toronto landscaping experts will help you get the hardscaping features you've always wanted to for your home's outdoor areas, and it can all start with just one phone call.
Give us a call today if you have any questions about our full line of professional stone step design and installation services, or if you would like to schedule an appointment for consultation with one of our specialists. Our team of experts are always standing by and would be more than happy to assist you in any way we can.
Installing Natural Stone Steps in Toronto
If your home's landscape features changes in elevation, stone steps can be a wonderful addition to your home's landscape design. Our team of professionals can incorporate stone steps so seamlessly into your landscape design that they will look like they were always there to begin with. On the other hand, if you are looking for something to stand out as a sort of centerpiece, we can certainly help with that as well. Stone steps can function as a great focal point for your landscape's design, and with the wide variety of different stone types and colors available, there is almost no end to the amount of options available to you. There is quite literally something for everyone out there when it comes to stone steps for your Toronto home's landscaping, so give the professionals at Ritestone Interlock & Landscaping a call today and let us help you take your home's landscape to the next level.
Why Use Stone To Build Steps?
Many homeowners tend to wonder whether or not having your steps made of something like wood or concrete would be better than stone, and while each of them have their benefits, stone is definitely a step material deserving of consideration. For one, it is much more durable than any other option out there. Stone steps will still be standing long after you and your house are gone. In addition, large stones have a way of grabbing people's attention, making them a natural focal point to the exterior of your home, especially due to their asymmetrical nature. If you are interested in all the benefits that stone steps can add to your home, call the pros at Ritestone Interlock & Landscaping today.
If you are looking for a hardscaping professional that installs natural stone steps in Toronto, please call Ritestone Interlock & Landscaping at 416-881-5188 or complete our online request form.